Dr. Campbell-McBride's GAPS Diet is a powerful healing system ideal for children who have any of the following:
Seriously picky eating habits with health challenges.
"Food addictions" to dairy, gluten, and processed junk foods.
"Leaky gut" resulting in food allergies and food intolerances.
Overgrowth of yeast or of bad bacteria in their intestines (or anywhere in body).
Developmental delays or "failure to thrive".
Skin problems like Eczema, Psoriasis, or breakouts.
Constipation, loose stools, or Irritable Bowel.
ADD/ADHD and trouble concentrating, focusing, and learning.
The GAPS diet is a very specific eating program which heals the gut and immune system. It's based on real whole foods, grain-free diet, rich in healing fats, and contains specific carbohydrates that are most gentle on the intestinal tract.
"30 Days on GAPS Introductory Handbook" (with Meal Plans & Recipes)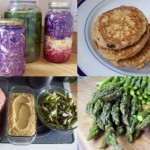 You will find this easy to follow guide very helpful with 30 days of menus and recipes for the first 30 Introductory days: GAPS Introductory Diet Meal Plans
Cara of HealthHomeHappiness.com started her daughter on a grain free diet to help with developmental delays at the end of 2008. She found the transition overwhelming, but knew that she had to keep going as her daughter was thriving on a grain free diet. Cara's goal with the Best of the Grain Free Meal Plans cookbook is to help share her knowledge with other families who are trying to go grain free, or who already are successfully grain free but are looking for recipe inspiration. Learn more and buy here: GAPS Introductory Diet Meal Plans
"GAPS Cookbook: The Best of the Grain-Free Meal Plans v.1"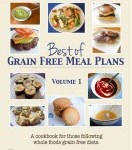 Cookbook: The Best of the Grain-Free Meal Plans, v.1
Cara's cookbook includes over 70 child-friendly recipe favorites with clear instructions for beginning cooks and preparation techniques that can realistically fit into a busy household, and have color photographs that make the reader excited to try grain free meals!
This cookbook has more variety and options than the "30 Days on GAPS Introductory Handbook" (listed above).  Recipes range from cheese sticks to milk kefir to garlic lamb roast to cultured kimchi to dainty butter cookies. Simple and delicious! Cara's blog is HealthHomeHappiness.com and she also wrote the "Batch Cooking" guide and GAPS meal plans.
Buy the PDF version OR Buy the physical book on Amazon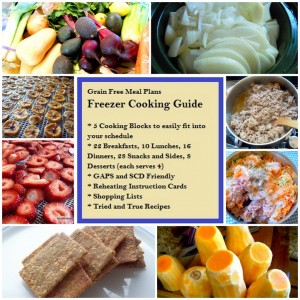 "Freezer Cooking Guide"
(Bulk/Batch cooking for Grain-free or GAPS diet)
You will love this Freezer Cooking book as a companion to Cara's GAPS Cookbook as it takes you step-by-step and holds your hand to guide you through filling your freezer with nourishing grain free food.
Rather than requiring one long 10-12 hour cooking day, there are 5 sections that take 2-3 hours each so bulk cooking can be spread out over a weekend, a week of nap times, evenings, or however fits in your schedule. Cara knows, as a mother with young children, one with special needs, that I do not have 10 hours to dedicate to the kitchen in a single swoop!
Friendly for small kitchens. GAPS freezer meal batching can be done in a small apartment kitchen.
Quick clean up tips! Tips to save dishes are scattered throughout the book.
Re-heating instruction labels can be printed and easily attach to your frozen meals to remind anyone how to reheat the meal.
Printable Serving instructions and side dish suggestions are on the heating instructions.
Dairy free options for all meals.
Index of recipes included
Shopping list included